I just have to say that I am and have been very very sad about the whole "Amanda Bynes going a little nutty thing." I think most woman my age are particularly sad about it because we grew up watching Amanda Bynes on television. I am four years older than her and I always thought she was hilarious. I mean, who does this....
Only the extraordinarily cool and stellar people will do this. Especially with Tatum Channing in the room.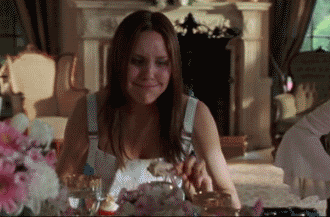 Who can eat a chicken leg like that and still be so amazing? AMANDA BYNES, that's who.
She has been that actress/comedian that everyone loved. She was silly and made faces that were quirky and yet stayed beautiful. She never took herself to seriously, she was real.
Then something happened and the rumors say that she is suffering from some mental illness. She has been doing this kind of stuff.
Is it crazy that it breaks my heart? I just hope she gets the help she needs because I want old Amanda back. But she might have gone a little further than even Brittney and Lindsey. And that's bad.
What are your thoughts on the whole "Amanda thing?"